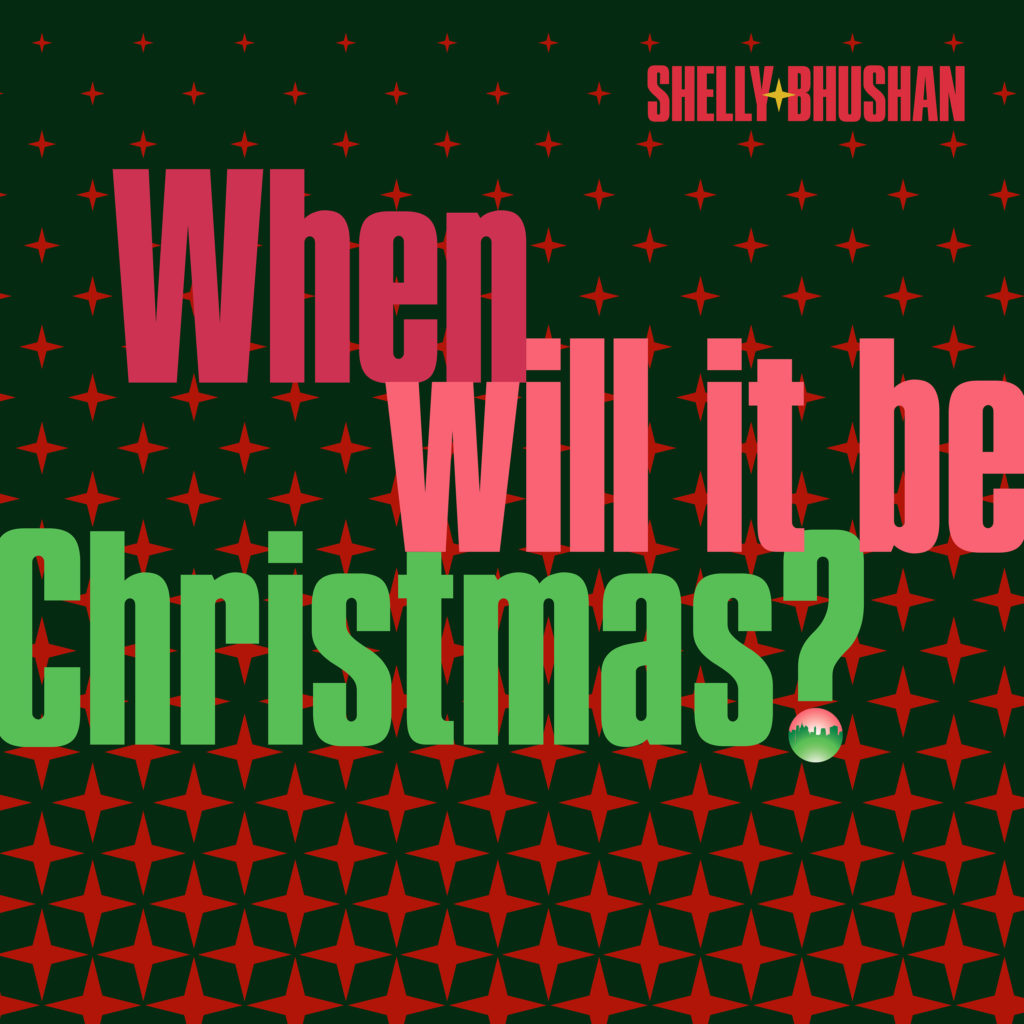 When Will It Be Christmas? The correct answer is December 25th, but in 2020… this dumpster fire of a year, I suppose it can't come soon enough.
You know, I wrote this song a week before Christmas 2019. I was booked for a holiday gig at NYC's LIC BAR, which is one of my musical homes away from home. The theme was: Holiday Songs. One cover. One original. Welp. I didn't have one of those. Honestly, I love Christmas, but I generally never thought i'd ever write a holiday song. I tried to think about what makes Christmas so special to me. What's not to love? The holiday parties, the glitter, the velvet, the food, the dressing up and the bubbly cocktails. And as a parent there's the, oh man, I can't drink too much at that party because I have to run home in time to do the parent things — the hustle. I started to think about my child. We were trying to teach her about the holiday songs we grew up with. My husband and I were holding nightly family choir teaching sessions. As I wrote this song, I thought about those sessions, Santa and my daughter's Christmas list, going to Macys and standing in that monster line to talk to Santa, Chestnuts roasting on an open fire, 5 golden rings, silver bells, joy to the world and all those things. The song happened in a flash.
I played my song that night at LIC BAR and was certain it was a good one. I wanted to record it. Then 2020 happened. WTF? Stuck in NYC, no place to run, no place to hide except our apartment, terrified, worried, everything everyone was feeling. What a time to not think about music… at all.
Thankfully the summer came and lifted our collective spirits. I thought about Christmas and how I had hope it would be better by then, but probably wouldn't be. I reached out to my friend Wayne Silver at The Ice Plant Studios in Long Island City. I asked him if he would work with me on this song, produce it, but it would have to be remote. He agreed. We worked over facetime and with an app called Audio Movers which allowed me to hear the console playback in close to real time. I rattled off what I wanted… I wanted Phil Spector, I wanted classic, I wanted bells, rocking old 50s guitar and a sax solo pulled from that era, but could it be an 80's style solo? I don't know. I wanted John Hughes, Home Alone, I wanted to feel what Christmas walking down 5th Avenue staring at the windows, I want to see the Cartier store wrapped in ribbons and to see the Rockefeller Christmas Tree. I wanted to smell candy canes and see my husband's terrible Christmas cat sweater. I wanted to feel all of it knowing that Christmastime would probably be scaled down. Much like our Thanksgiving this year. And when thinking about all these things, it's not even in sadness. It's in hopefulness that in 2021 things will be better. With the news of the vaccine and more testing, I'm certainly optimistic. I can't wait to come together, to play music together again, to hug again, to shake hands again… I'm calling it the great-gathering. I can't wait for all of us to be together again on our own terms. I want to wish you all the best as we transition to this next phase together. Happy Holidays. Be safe. Be well. Much Love, Shelly